Stormwater neutrality and wastewater control
Each section of the existing three waters networks was designed and built to service expected levels of development and the standards of the time they were built. Stormwater neutrality and wastewater control are used to mitigate capacity issues.
In some areas demand may now be greater than the network was designed for ,or service levels have changed. The network you wish to connect or discharge to (or network downstream of this point) may have capacity constraints or issues that may limit its ability to take additional flows.
If you want to make a connection or discharge to our wastewater (sewer) or stormwater networks, and there is a known capacity issue downstream, we may require mitigation to avoid or minimise the impact on downstream network that may result in surcharging, flooding, overflows and subsequent public health risk.
In simple terms stormwater neutrality means that the peak flow rate of stormwater that discharges from a site after it is developed is not greater than the peak flow rate of stormwater runoff prior to development.
Often as part of developing or building on a site, grassed (permeable) areas are replaced with sealed (impermeable) areas, such as driveways, buildings, roofs and decks. This change in surface from permeable to impermeable increases the amount (and speed) of stormwater that will run off these areas.
For small residential developments that require stormwater neutrality, Managing Stormwater Runoff is an easy to read guideline that provides information and guidance regarding why stormwater control is required and three options to achieve stormwater neutrality.
The Reference Guide for Design Storm Hydrology is a technical guideline for stormwater modelling professionals and land developers, outlining the steps involved in estimating flood hydrology for small ungauged urban catchments in regions managed by Wellington Water.
Often stormwater neutrality is achieved by the use of a system which holds back or detains the stormwater discharge from the site, and only allows a slow release of the stormwater at a rate that is no more than the sites original discharge.
Commonly the stormwater that is held back or detained is stored in a (detention) tank, which has a controlled outlet (orifice). There are a large number of detention tank products available with above ground or below ground options depending on the situation and preference. Oversized pipes and ponds are also used to achieve stormwater neutrality.
Wastewater control is similar to stormwater neutrality in that, where there are known capacity constraints in the downstream pipe, increased flows from a development must be held back or detained so that wastewater flow from a development is no greater than pre-development or at a level that doesn't cause or increase overflows or surcharging.
Wellington Water can advise if wastewater control is required, and provide requirements and give guidance on proposed solutions via email: land.development@wellingtonwater.co.nz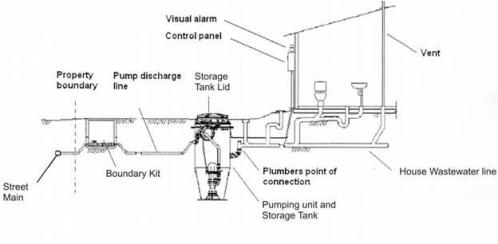 Figure above: A typical private wastewater control and detention system