Adjusting, upgrading or extending
It may be necessary to adjust, upgrade or extend the existing drinking water, wastewater or stormwater networks when building or subdividing.
An adjustment may be as small as raising or lowering an existing manhole to suit new ground levels or as large as relocating a section of the network in a new position. An extension may be as small as adding a short section onto the existing end of a pipe or as large as planning new drinking water, wastewater or stormwater systems (to be vested to Council) to service a multi lot subdivision.
Regional Standard for Water Services
The Regional Standard for Water Services, details the objectives, performance criteria and design requirements when undertaking any works on the existing public three waters networks or creating new public three waters networks. Individual Council Codes of Practice also provide some additional guidance.
Regional Specification for Water Services
Safety in Design
Safety in Design hazard identification and assessments are to be integrated into the design. The design must integrate how to eliminate, or if this is not reasonably practicable, minimise the risks to health and safety throughout the life of the structure.
Making changes to the public network - Contacts
Engineering approval is required for all adjustments, upgrades or extensions to the three waters networks.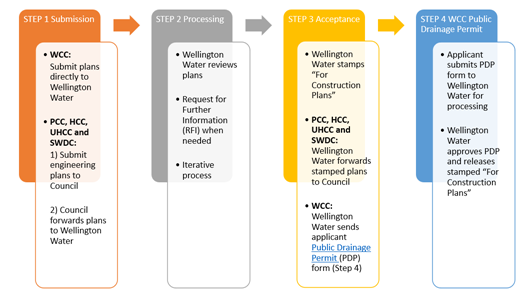 Application for engineering approval for works as part of a subdivision or land use consent: