Published 20/12/2019
Wastewater network failure leads to call to reduce water use
Update 3.30PM - 24 December
The temporary above ground pipe has been installed and wastewater is now flowing through it from Dixon St to Ghuznee St along Willis St. Thanks to the crews who have been working around the clock to get this up and running.
Residents are now able to resume their normal water use. Thanks for your patience and water conservation efforts during this time.
Willis Street between Dixon and Ghuznee streets will remain closed to through traffic for at least two months while the new, underground pipe is installed. Pedestrian access is still available, along Willis St with pedestrian crossings at the Dixon/Willis and Ghuznee/Willis intersections.
Update 5.30pm - 23 December
From Friday 27 December Willis St between Dixon and Ghuznee will be closed to traffic into the New Year. Pedestrian access is still available.
Other temporary closures may be necessary in the vicinity. Please take care.
Update 12.30pm - 23 December
We have managed to stop wastewater overflow into the harbour. We managed to successfully configure the network pump stations with the pumps on site, to pump down the storage tanks and are now able to cope with current flow. The system remains limited, and fragile.
Clean-up crews report low levels of visible material at the waterfront; water quality results show high levels of bacteria from Frank Kitts to the Overseas Passenger terminal; low levels at Oriental Bay. The rāhui will remain in place for at least four more days.
Crews are working again worked around the clock, preparing for the overground pipe that will run along Willis St.
We continue to advise people in the district to minimise their water use.
Road closures remain in place – Dixon from Victoria to MacDonald; Willis from Dixon to Vivian; Ghuznee from Victoria to the Terrace, and Vivian overnight (8pm – 8am).
Public response so far has been accepting, but some disgruntlement out there over disruption, the discharge, and impact on daily life. We're working on ways to step up our engagement, and also looking ahead to the shape of things for the two months or so that the overground solution is in place, while we're working on the permanent fix.
Update 9.50pm - 22 December
Road closure clarification: Dixon St will be closed from 9am Monday. Willis St is closed from just north of Dixon St; there will be access to Willis from Boulcott St to just before Dixon St - but no through traffic.

We're sorry for the inconvenience.
Update 7.30pm - 22 December
We've had great work from the team on the ground today.
Through the day we had successful tests of pumping stations, and will be running them overnight to keep wastewater levels under the normal alarm levels, reducing the potential for overflows into the harbour.

Throughout the works road closures will remain in place, with Vivian Street closing tonight from 8pm-8am.
Willis St remains CLOSED between Vivian St and Manners St
Ghuznee St remains CLOSED between The Terrace and Victoria St

The Terrace between Salamanca Rd and Ghuznee St is CLOSED
We will provide further update tomorrow.
Update 4pm - 22 December
Due to the urgent works at Dixon Street, the following road closures are in place:
Willis St remains CLOSED between Vivian St and Manners St
Ghuznee St remains CLOSED between The Terrace and Victoria St
Salamanca Rd to The Terrace (toward Ghuznee St) is CLOSED
SH1 Vivian St will be also closing between Victoria Street and Marion Street. This will take effect until Friday 27 December, 8pm-8am each night to allow further investigation works to take place.
Please plan ahead and allow extra time for your journey. Southbound traffic should use Aotea Quay, Waterloo Quay, Jervois Quay, Cable Street, right onto and Kent Terrace as alternative routes during this time.
Update 12pm - 22 December
Crews working overnight have managed to divert wastewater flows through an old pipeline.
This means we are able to significantly reduce overflow into the harbour. However, we can't say for sure the overflow has stopped.
We continue to ask people to stay out of the water in the rāhui area (from Kaiwharawhara to Point Halswell). Harbour water quality testing will continue in the interim.
We are continuing to work through options to ensure we can completely stop the overflow as soon as possible.
We're really sorry about the inconvenience this is causing to people and traffic.
Update 9.45pm - 21 December
Steady progress has been made today on multiple fronts.
We've cleaned out the old decommissioned pipe beneath Willis Street. We want to use this to divert at least some of the flow back into the network. Before we can do that we need to CCTV it to make sure that it's not damaged.
All going well, we will gradually increase the flow through the pipe enough to stop the overflows. Stopping the overflow of wastewater into the harbour is our first priority and once we have achieved this then there are some longer term solutions to be considered.
We have sucker trucks on 24 hour rotation pumping wastewater out of the pump stations at a rate of 40,000 litres an hour.
Greater Wellington Regional Council and the Port helped us monitor the harbour waters. Our teams will continue working overnight and tomorrow to capture anything left by the changing tides. More signs have been put up advising people that it is not safe to swim and our teams have been speaking to people along the waterfront enforcing that message.
Our next update to you will be tomorrow morning.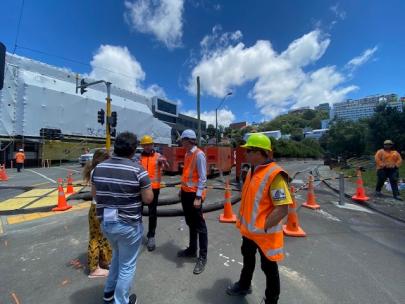 Update 11am - 21 December
Following emergency works at Dixon Street yesterday, crews have worked through the night on options to divert wastewater around the blocked areas. More work is required, and to help with this there are currently two major local road closures in the CBD.
Willis St is CLOSED between Vivian St and Manners St
Ghuznee St remains CLOSED between The Terrace and Victoria St
Please expect significant delays through the CBD, particularly on Vivian St. SH1 traffic should use Cambridge Tce, Wakefield St, Jervois Quay, Waterloo Quay and Aotea Quay as alternative routes during this time.
We are working with local businesses and residents who have been incredibly accommodating, and thank them for their patience and support as we work to repair the pipe.
Wastewater is still overflowing into the harbour, and the rāhui is still in place (see map). Please continue to stay out of the water, and do not go fishing or collect seafood.
We also thank residents and businesses in the affected area for doing everything they can to reduce their water use.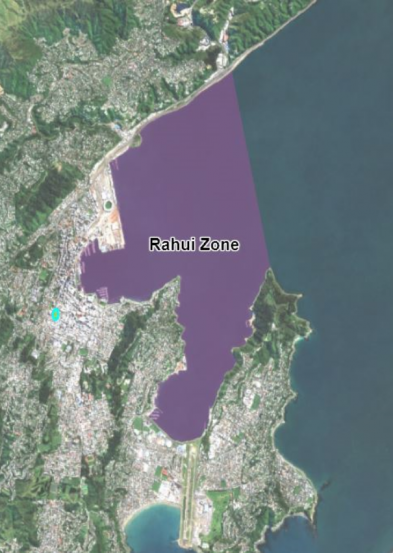 Update 6.15pm - 20 December
We are still asking people in the affected area to use as little water as possible.
A rahui has been placed over the inner harbour (see map below). This means people should not swim or play in or around the water in this area.
Our next update will be tomorrow morning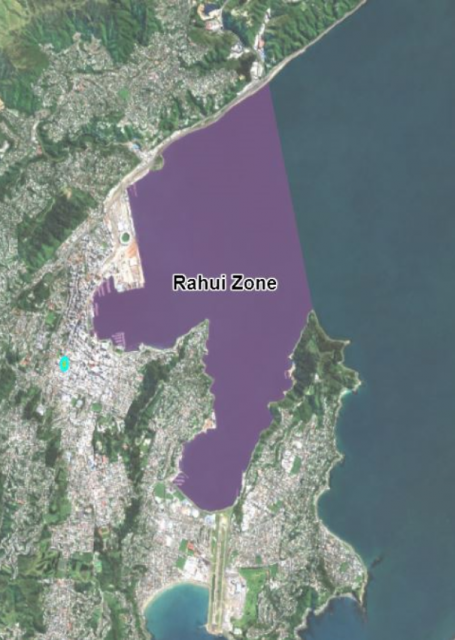 Update 2.20pm - 20 December
Drivers are urged to avoid the Upper Willis St area from 3pm today until late tonight to allow urgent work by Wellington Water to prevent sewage flowing into the harbour.
Willis Street will be closed between Vivian Street and Manners Street. Ghuznee Street will also be closed between The Terrace and Victoria Street. See map below.
Signed diversions will be in place, including for buses. Access for local traffic will be available, but not through the Willis/Ghuznee intersection where trenches and temporary pumps will be installed.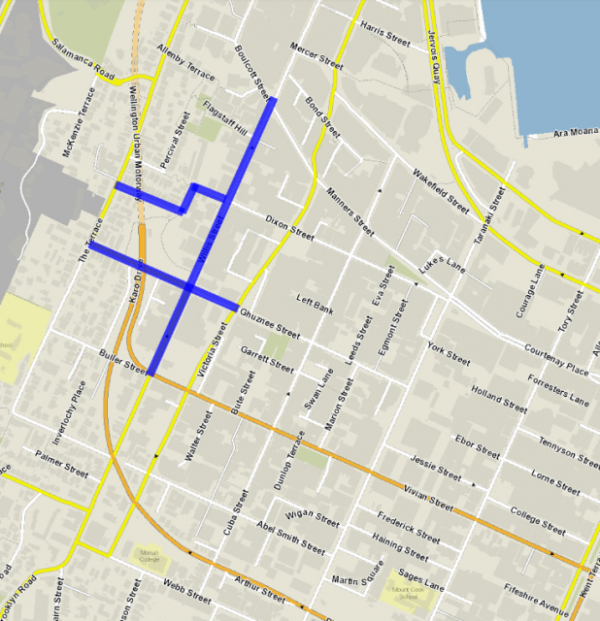 Update 11.30am - 20 December
We anticipate the wastewater overflow will continue over the next few days. We continue to urge the public to stay out of the harbour, avoiding any splash zones near the waterfront. This includes no fishing or collecting shellfish. Signs are in place along the waterfront.
At 2pm today, Taranaki Whānui will be placing a rāhui at the discharge. We would like to invite all members of the public to attend this process at Whairepo Lagoon/Frank Kitts Park.
Residents and businesses in the CBD are advised to reduce water use to avoid water entering the wastewater network.
Crews at the Dixon Street site are continuing to investigate and unblock the wastewater tunnel. At this stage Dixon Street is the only road closed.
Update 10.18am - 20 December
The following map indicates the sub-catchments affected by the wastewater system blockage.
Inner city residents and businesses are encouraged to use less water where you can to reduce wastewater going into sewerage system.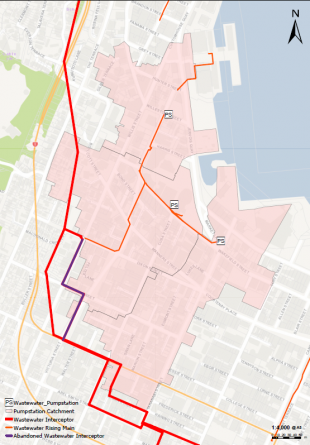 Update 9.55am - 20 December
The site has been made safe, and we are investigating the blockage.
We can confirm that we are overflowing into the harbour at Whairepo Lagoon, and the Taranaki dive platform is also expected to overflow soon.
We are urging people to stay out of the harbour between the Port and Point Jerningham.
Please avoid any splash zones on the waterfront.
December 20 - 8.54am - 20 December
A collapsed wastewater tunnel in the Wellington CBD means that the central city's wastewater will begin discharging into the harbour this morning. The likely discharge points are near the dive platform, and Whairepo lagoon.
At this stage it is unknown how long this will last for, or the volumes of wastewater that will be discharged.
Wellington Water is asking all inner city residents and office workers to minimise their use of water, to reduce the load on the network and the size of the overflow.
The collapsed tunnel, beneath Willis and Dixon Streets in the CBD was being prepared for repair.
More updates will follow.