Published 15/07/2021
Major milestone for Omāroro reservoir project
Ticking off a major milestone in the Omāroro reservoir project was worth the early start for the construction team at Mount Cook yesterday (Wednesday) morning.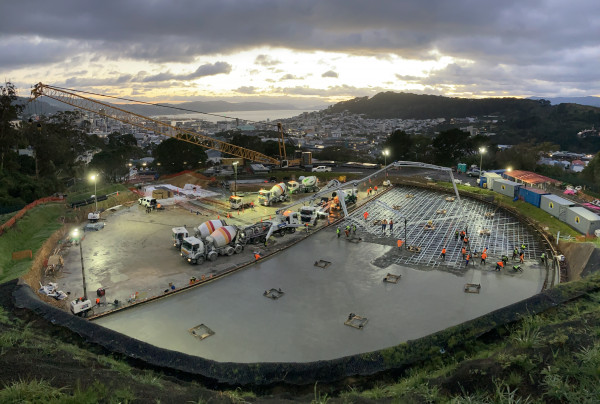 Workers arrived at 2am for the first base concrete pour of Wellington's newest water storage project.
"It ran as we'd hoped – it went smoothly, and we didn't have any significant delays," said HEB Construction Project Manager Paul Reid.
The new 35 million litre Omāroro reservoir is a project led by Wellington Water, which manages the city's drinking, storm and wastewater services, on behalf of Wellington City Council.
The pour of around 600m3 began at 3am and was completed by noon, but preparation for yesterday's work had been in pipeline since March last year.
Wellington Water Chief Advisor Potable Water Laurence Edwards said the progress was pleasing.
"We are very happy with progress that HEB have made to date and appreciate the effort from the site team to ensure the pour was successful."
Reid, who previously worked on the construction of Paddington and Woolwich stations on the London Underground network, reinforced the importance of the project.
"It's hugely important to Wellington as a city and the region, and this is a significant step forward in a project that will more than double the water storage in the CBD area," he said.
"It shows there's good, positive construction happening, with Wellington City Council investing in the infrastructure that makes our water supply more resilient to disaster and disruption."
Reid played rugby on the site's temporarily displaced pitches as a boy and is mindful of the concerns local residents may have over the change of landscape.
"We appreciate local residents' keen interest in the environment and the natural beauty of the area, but there is going to be a good result for them and Wellington."
The construction team will continued to work throughout the night and the second half of the reservoir floor will be poured in late August.
"It's something we will be proud of, to slot in such major and important piece of infrastructure, and then return the area close to how it was."