Published 1/08/2023
The story of Te Rū - a deep underground boring machine
Ceinwen Curtis, Hutt City Council
Though the entire project has taken 18 months, for nine months, hardened steel, tipped with tungsten, has bored relentlessly through rocks of all sizes, shells, sand and soil and that sodden solid timber at a speed of ten metres a day.
Thanking the contractors who built the new pipeline, Lower Hutt Mayor Campbell Barry told them he's excited to get to this point and delighted it's been done with minimal disruption.
"This is a project that has been many years in the making. It's so important for the health of our awa, for the resilience of the network given 90 percent of the wastewater from the Hutt Valley flows through this pipe. While it's not particularly sexy, it is so important to get this right and put this investment in."
The total cost of the project is forecast to be $31.5m when it's completed with reinstatement works finished. The goal has been to get the new pipe deep into solid ground, protecting it from earthquakes as much as possible.
It's a relatively short piece of infrastructure given there are 680km of wastewater pipeline in Hutt City alone and the old pipe is under enormous pressure. It's at the end of its life and vulnerable to seismic activity.
"We know if we don't have the wastewater securely going through this pipe if a significant earthquake or other major event occurred, we could be in big trouble. I see this as the start of our journey inramping up our capital investment here in the Hutt. It's so important wecontinue to scale up and deliver on underground infrastructure," said Mayor Barry.
The round shaft on the Seaview roundabout gives away how they did it without an open trench along the whole route.
The German-engineered micro tunnel boring machine, Te Rū Tiokaoka, is named for Rūamoko the 'God of earthquakes', a name gifted by Te Āti Awa.
Te Rū, the shortened version, is tiny compared to the giant tunnel boring machine, Alice, which dug Auckland's Waterview tunnel, but this pipeline is just a metre in diameter.
The machine has tunnelled down to depths of up to nine metres in places, to ensure the new pipe is laid in soils less vulnerable to liquefaction.
Wellington Water Project Manager, Linda Fairbrother, says the full pipeline is now completely installed. The final commissioning and testing will take place in the next two weeks.
"It was a really great moment when Te Rū was lowered into the ground the first time and started working. Getting it here, there were all kinds of shipping issues during Covid."
Te Rū bored through ten metres of material a day and every 200 or so metres, the machine emerged into the open air into a short trench so the tunnelling team could change the teeth on its cutting edge.
"The team has faced some big challenges, but they've found solutions and made it work, so that life above ground has been able to carry on, especially traffic, despite the disruption," says Linda Fairbrother.
It's dangerous work. The below-ground conditions are difficult and high traffic volumes buzz overhead.
McConnell Dowell project engineer Priyanka Patel, says it was clear from the discarded rocks and wood fibre that Te Rū was boring through some solid objects.
"We had massive logs that we tunnelled through. We watched the material that was coming out the back so we could tell how long the teeth would stay sharp. It's one thing having logs or rocks, but having both has been a huge challenge."
The patron saint of tunnelling is St Barbara. Her statue was at the head of all the tunnel shafts. It's spiritual thing for tunnellers that the machine must also be named and blessed.
"Historically tunnelling has been an industry with a lot of major accidents where people have died so we always like to have the statue there and bless the site before we start." said Patel.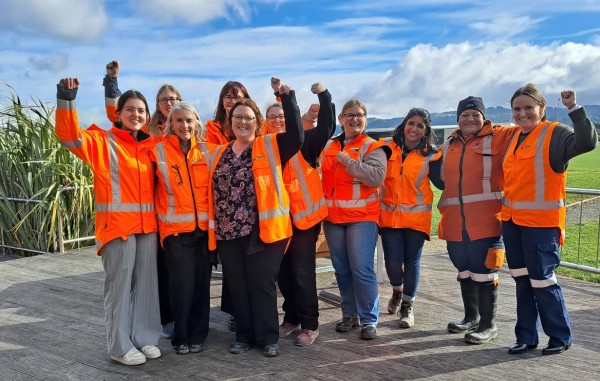 There have been plenty of wāhine working on this project from the chief executive of Wellington Water, Tonia Haskell to some of the engineers operating Te Rū.
As the big team of contractors celebrate the successful end of a difficult job, Te Rū is already at the next job, boring a tunnel in Auckland.
Using tunnelling technology has made the project low-carbon and meant less disruption as very few trucks were needed to ferry material than with a conventional trench.
In another example of sustainability, Te Rū's discarded hardened steel teeth, blunted and a bit rusty after all that hard mahi, have been turned into trophies and presented to the contractors involved in the project.
At a tree planting ceremony to celebrate the mahi, chief executive of Wellington Water, Tonia Haskell congratulated them, "We are on a journey to te mana o te wai. We are about restoring the balance of people, water and the environment and projects like this are critical steps forward on that journey for the Hutt Valley."
The old pipe will be retained as a back-up when during maintenance on the new main wastewater pipe.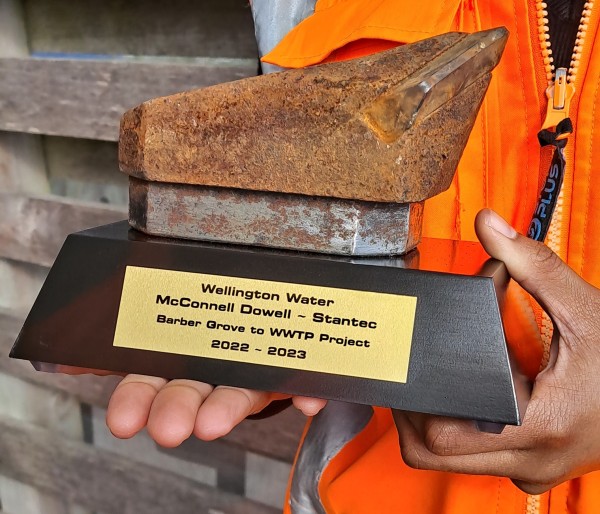 Editor notes
Wellington Water is owned and fully funded by Wellington City Council, Hutt City Council, Porirua City Council, and Upper Hutt City Council, Greater Wellington Regional Council and South Wairarapa District Council. All six councils are equal shareholders.
Our councils own the water infrastructure in the region, and they task us to manage the infrastructure and deliver water services to our communities.
Wellington Water is governed by a Board of Directors. The Board and our organisation receive overall leadership and direction from the Wellington Water Committee, which are also responsible for appointing members to the Board.
The Wellington Water Committee is made up of representatives from our council owners and mana whenua.